March 25th, 2020
Hey everyone!  I hope everyone is staying healthy during these crazy times we live in.  The COVID-19 virus has definitely affected everyone around the country, so there is some solace that we are ALL in this together!
According to the Illinois State Dental Society (ISDS), the American Dental Association (ADA), the Center for Disease Control (CDC), and many other national health-related organizations, Lovda Family Dental has decided to close for non-emergency treatment, and scheduled to re-open by April 13th.  However, our office will be open for EMERGENCY TREATMENT ONLY.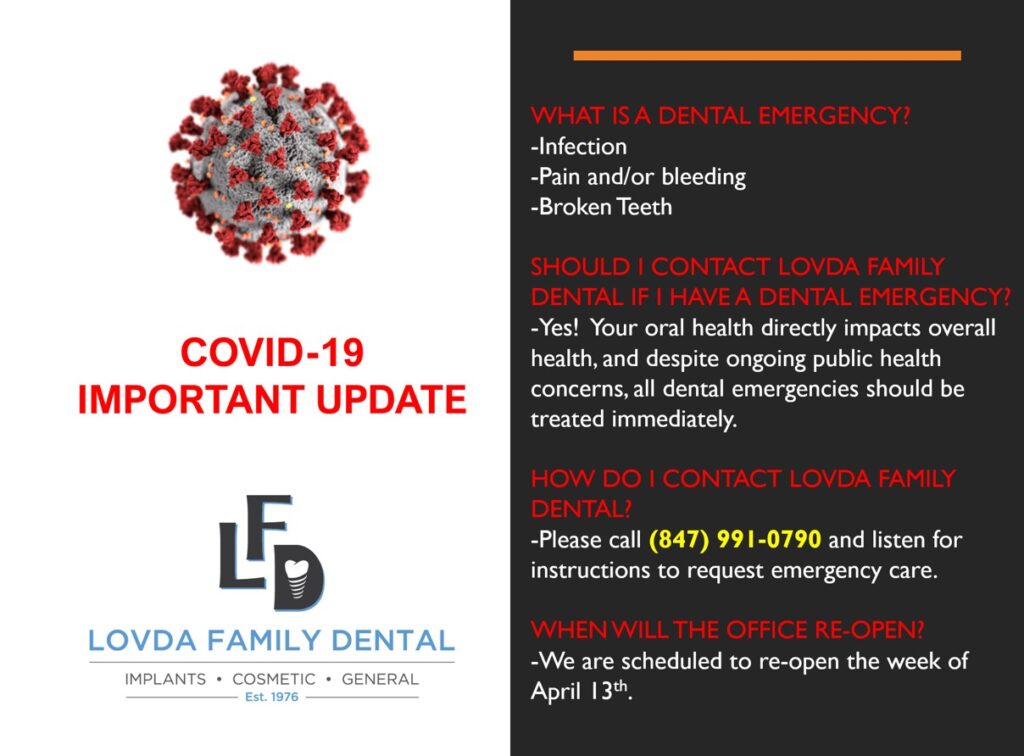 Rest assured, the team at Lovda Family Dental is committed to your oral health despite the ongoing public health concerns.  Your oral health has a direct impact on your overall health, so if you are experiencing any of the above symptoms, please do not hesitate to call our office and request emergency care.
And lastly, PLEASE PLEASE PLEASE follow CDC COVID-19 guidelines for hygiene and "social distancing".  Only together, as a community, are we able to fight this pandemic from spreading.
If you have any questions, please dont hesitate to call our Hoffman Estates, IL office at (847) 991-0790.
-Dr Lovda